New product - Automatic Foaming Soap Dispenser
Reasonably control the amount of foam produced. The rich foam cleans your hands while reducing irritation, making it easier to rinse and leaving no residue of foam. 450ml, large capacity design, can be used 500 times, to meet the family for 60 days
The selected miniature high-efficiency motor and its rubber shock-absorbing structure notonly have high foaming efficiency, but will not be disturbed by noise during use. The intelligent light-sensing design can also reduce power consumption. 4 batteries of size 7 can satisfy-home use 3 Month (low power consumption, quiet)
Small size, free installation, suitable for various environments.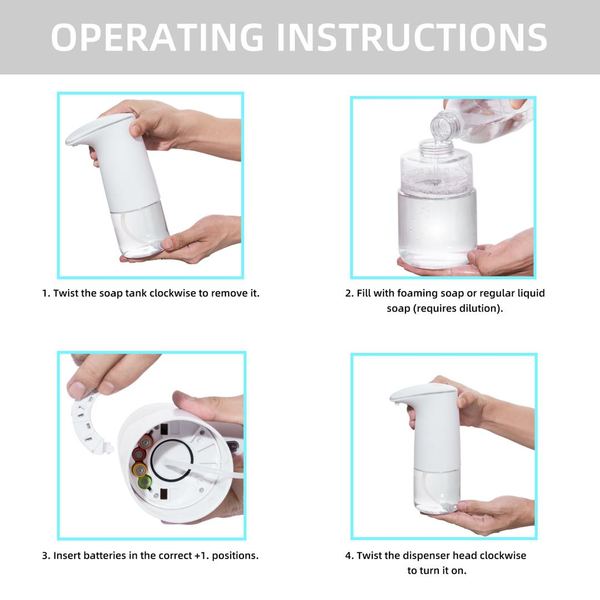 More hygienic, more convenient, more fashionable, smarter and more economical, making handwashing more fun. /// Compared with traditional, pressing contact bacteria, it is troublesome to press, the bottle is easy to fall.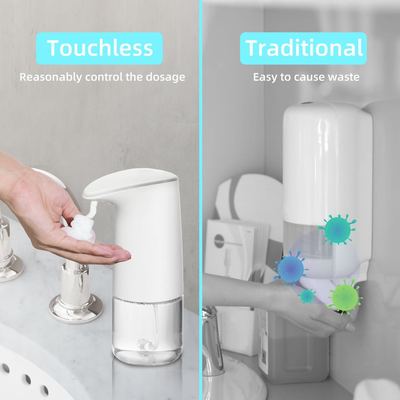 Can be used withpeace of mind in humid environments
20 degree tiltangle nozzle design, natural fit, clean and not dirty machine wall, reduce cleaning trouble
ABS body material, environmental protection and dirt resistance
Smart switch,open with one touch. Induction light reminder, strong sense of technology, smart and intimate
Can replace all brands of foam type hand soap
Elegant design,simple installation, small size, follow the World Health Organization to develop a good habit of washing hands
How to use: Dilute with water in a ratio of 1:6, shake well and dissolve before use. If the foam shape is unstable, please dilute it according to the actual situation.
Note: Do not pour non-foaming liquids containing matte particles, powder and essential oils, conditioners, etc.
Product parameters
Product name : Automatic Foaming Soap Dispenser
Product material : ABS material
Product size : 209mm*79mm
Net weight : 275g
Waterproof rating: IPX4 (not upside down)
Bubble speed: 0.25 seconds
Sensing distance: 3 -6mm
Induction bubble: infrared sensor
Scope of use : hand skin cleansing
Battery type: 4 No. 7 alkaline batteries
Sensing distance: 3-6mm.
Working current : 200mA
Rated voltage : 6V
Rated power : 1.4W.
Capacity : 450ml.
Working humidity : 30%-80%
Working temperature: 0 degrees -70 degrees
Packing list : washing mobile phone * 4 batteries of size 7 * manual
Certification salready in the application : IPX4, CE EMC1, FCC SDOC. PSE EMC
Contact Information
Sales:Lisa Liu
TEL:+86752 2277 856 Ext.808
F:+86752 2277 956
Mobile:+8618923606158
E-mail:sales@ledeventfurniture.com
Skype:jishun-lisa
Wechat/What's App/Viber/Tango ID:18923606158